Career Guidance from Navigus
Explore career options based on your interests and get answers to the What, Where, Why & How to choose your Career.
Navigus team has been extremely professional in providing me the right career path with their unprecedented advice and it has been pleasure interacting with them. Thank you team Navigus!
Shaunella Ferns
It's great to have someone to ask for advices before starting off and Navigus is making it easier like never before. Great
Deepak Bharti
Needless to say I'm really impressed with the code of conduct. I have a crystal clear mind about my options and colleges that would place me on my career platform. Thank you for the guidance and the whole bunch of information provided during the session. I'm happy that I found Navigus on my timeline.
Kushal Reddy
Navigus support has really helped in terms of career counselling for my son. They judged the person by asking relevant questions in terms of his interests but also gave wide knowledge to pursue his career. I am glad that I chose Navigus and can now take a proper decision without any doubt.
Neesha Kapadia
Get the right Career Guidance and Advice from Navigus
We at Navigus value every individual's dreams and wish to help and guide them towards achieving their career goals in today's competitive world. To ensure that this happens, our customers get a comprehensive view and understanding about careers options from experts in various respective fields. All too often skilled, deserving and talented individuals fail to create a career plan and end up in jobs that do not interest them. Here at Navigus, we inform, empower and nurture individuals so that they are able to make an informed decision and choose the right career for them.
Many of today's generation and working denizens are clueless about how to pick their right career. Most don't even have a career plan or goal in mind. Career success is often written off as fate or luck, when it actually depends upon consistent long-lasting efforts and hard work. Deciding on a goal, given the wide range of career options can be understandably difficult and confusing. Here at Navigus we seek to simplify this process by providing you with the right tools, knowledge and expertise to do so. One such tool is our free online career guidance tool that can help dissipate some of the confusion.
Additionally at Navigus, we have also developed an interactive career path mapping platform called Orion. Orion helps professionals and students discover and explore their personalized solution to a career at every critical juncture. The product is specially designed to understand an individual's personality and preferences, through an Interactive Chat-Based system. Based on its analysis, the results detail the most suitable career options with a comprehensive report, tailor fit to an individual's career recommendations.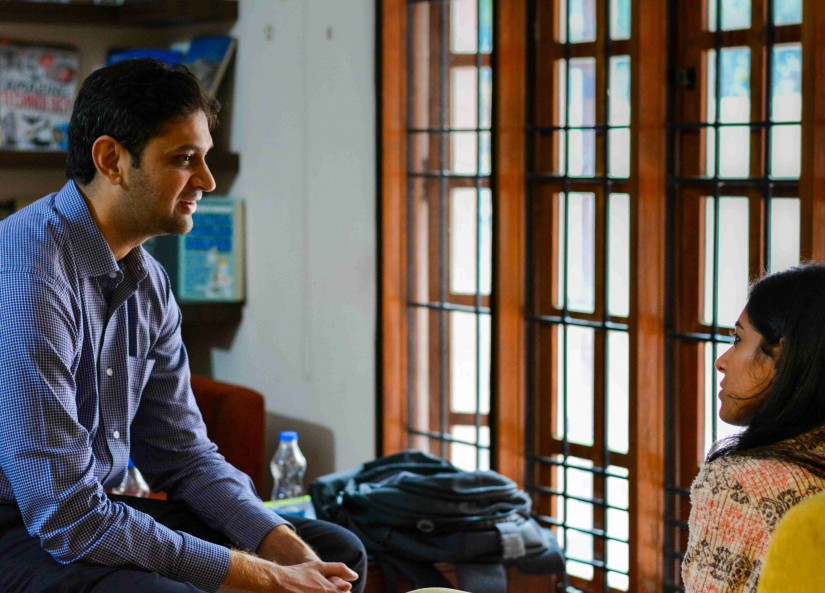 Career is not just a word, it's a part of your life
What is Career Guidance?
The 'how' in choosing the right career is an apprehensive question. It is perfectly natural for an individual to feel uneasy and uncertain about any decision regarding their choice of career, academic growth or professional development. Career guidance can help with eradicating these clouds of doubt and enable you to choose a career field that is right for you. Here at Navigus, we would not only provide you with insights into your choice of careers but also chart an educational path to your goal through a career map. Using Scientific tools such as Artificial Intelligence and Machine Learning, we seek to make career guidance and its necessary facilities easily accessible to individuals so that they are able to leverage career guidance for their own benefit.
Importance of Career Guidance.
Career choices and decisions greatly affect our happiness, lifestyle and our future. As our careers drive our enthusiasm and ambition towards a goal to a great extent. It is because of this, many people derive purpose from their careers and are able to work hard and excel in their field as their careers give them purpose. Or, rather they derive purpose from their careers. However, most ambitious individuals go through their life disinterested with their work. They waft through life. They are unable to derive purpose from what they do and thus do not feel obliged to do it wholeheartedly. Their interests and skills do not align with their current career path and hence, they suffer. Though economic independence is necessary and important, in the long run, working in a field that interests you and values your skills will give you greater satisfaction. But which field?
In today's world, career guidance could make or break your career. Students, as well as working professionals, must give career guidance its due diligence so that their precious time is not spent in various fields that do not contribute to the growth of their career.
Due to globalisation and digitisation, a wide range of career options are now available to choose from. Hence, many of us are left confused and bewildered with such a plethora of choices and scarcity of trustworthy information. If you too, feel this way and would like to know where your aptitudes and interests lie, reach out to us at Navigus, today.
Students must remember that there is no hard cut requirements for any one stream. Higher grades in related subjects does not equal hidden talents or necessary skills required for excelling in a particular stream. At best grades point out a students time management skills and their subjects of interest.
Detail about Navigus Chat-Based Career Test
The Orion programme consists of two stages. The first stage is the discovery stage. Where working professionals and students are aided in discovering all the possible avenues and options that they are interested in. It helps in charting out a career map and discovering the best academic as well as non-academic options that an individual has available to them.
The second stage is the 'perpetual evolution stage'. Career maps based on Stage I results are drawn out for individuals. The career map details the necessary skills required, academic qualifications necessary, and years of employment in takes to gain proficiency at every level of ever career listed as a result in stage I. This map highlights the shortcomings and strengths of a candidate for a particular career. So that they may learn what is necessary to make up the difference or if there is any to begin with. This stage helps individuals to gauge their abilities in various career paths of their interests. A combined report of the two stages will inform an individual of their strengths, weaknesses, interests and options with respect to various careers. It will also additionally chart out a personalised map highlighting the various different routes and options available to them. Guiding school students, working professionals and college students towards their ideal career.
Discover your Career through the eyes of an Expert.
We are with you at every step of your career path. In addition to career guidance and the career test tool, we also have an experience mentorship platform named Auriga. Auriga provides one to one interaction with mentors so that individuals can hear and learn about their ideal careers and professions first hand. The Mentors are working experts and professionals from various fields of life. Individuals can learn about what to expect in a certain line of work and about what it would take for them to become an established voice in that field.
Through the Auriga platform candidates(mentees) can sign up and shadow a mentor for a day. Experience first hand, a day in the life of your ideal career and witness what it takes to be an expert in your field of interest.
We believe that experienced and talented individuals can conquer greater heights if their careers complement their natural skills, values, interests, qualifications and personality traits. In today's immensely interconnected, ever changing and globalised world picking and deciding on a career can feel like an uphill battle and an arduous task. We at Navigus believe that every individual is a myriad of skills, ideas, knowledge and talents. And we value them as such. Seeking to bring forth the best out of each individual and help them in chartering a unique career path tailored to their aptitudes, interests and expectations. Aiding them in making their mark on this world.
Career guidance after 12th
The higher secondary years of schooling can be an apprehensive time for students and parents alike. The myriad of options that exist and the lack of information about the paths that lead to them can feel maze-like and troublesome. However, with the right tools and guidance, we at Navigus believe that the talented and inspired youth of today are capable of achieving many great feats.
Hard work and consistency alone is no longer sufficient though. Individuals must also have a direction and goal in mind to work towards. Persistence must be paired with guidance. This can enable students to then make the right decision at the right time. As untimely action is as good as inaction.
Career guidance informs a student/parent about the various career paths that lie ahead. So, they have an ample amount of time to plan and prepare accordingly. An ideal career is an important destination in one's journey through life. Now, you could keep stumbling from one thing to another and you might eventually get there. (Given enough time, even monkeys with a typewriter could reproduce Shakespeare) Or you could take a step back. Assess, gather your thoughts and resources and with the help of scientific tools, create a plan to get there faster. Get ahead of the competition and work towards a goal.
Career guidance after Graduation
Graduation plays a critical role in shaping one's professional growth and career. After all, you might possess greater knowledge and understanding about a particular stream and field of education than others. Graduation provides the base that you can utilize to build your dreams upon. However, while many students find a way to fulfil their careers and dreams, a majority of them find it difficult to choose the right career option after graduation. Most students decide on a stream after their 12th based on how they fared in their examinations and their interests. Very few students pick a graduation course or stream with possible careers in mind. Delaying the inevitable decision of picking a career by another few years. Hence once graduation date approaches many students return to their previous state of confusion about their career path and options. Their skills have grown, their interests have varied but they still seem unsure. The confusion, after all, was never cleared, just postponed.
On top of this confusion there are now careers and jobs in the market that didn't exist years ago. The options are endless from Management, Hospitality, Game Design, Information Technology, Cybercrime forensics etc. Therefore, it would be advisable to seek guidance and support of experienced counsellors and meet with established professionals in the particular industry. Navigus Orion Platform gives students the opportunity to get in touch with such professionals who mentor students as well as other professionals and help them in getting their foot in the door.
In order to select the best career for yourself after graduation, it is necessary to find out the following about it. What are its growth prospects? What's the competition like?, Are there availability of jobs?, What are the expectations of the job's role, etc. There are several many more questions to consider when deciding on a career. And none of the questions or your answers to them should be taken lightly as you will be at your profession, pursuing your career, building your field for a long time.
In a few cases, students might find that they dislike their subjects or would prefer to switch fields and streams. Going through large changes can be frightening and frustrating, especially without support and insufficient information. Thus many don't go through with the change in time and regret it later on.
You need not be frightened or frustrated any more of such changes, instead, you must rejoice. Be happy about the fact that you have realized where your true potential lies and are looking to improve your life and career prospects. Be confident and read up on what options exist for you in your preferred stream after graduation. And in case you require expert assistance in guiding you to the right decision or helping you evaluate your options, reach out to us at Navigus. Career Guidance must become a part of every students career plan. After all how would one know that they are doing something wrong if they don't know what exactly they are trying to achieve. Stay informed, Stay ahead and leverage career guidance for your academic and professional growth.
While the option of careers are endless, we have listed a few careers below based on their industry. Reach out to us at Navigus if you seek to gain detailed knowledge about the career of your choice and require guidance to achieve career success.
Engineering and Manufacturing
Engineering and manufacturing are fields that go hand in hand and will always be necessary to modern human societies. Furthermore they will only be enhanced with technological advancements and progression. If you have great problem solving skills and analytical thinking you might enjoy a career in engineering and manufacturing. Additionally Science and mathematical skills are necessary for a career in these fields.
Mechanical Engineering
Materials Engineering
Civil Engineering
Architecture
Chemical Engineering
Electrical Engineering
Computer Science Engineers
Environmental Engineering
Biotechnological Engineering
Information Technology
'IT' as it is commonly known is the most popular choice of career today. This sector boasts of attractive salary packages and is constantly undergoing developments and advancements. Ever since the dot com bubble the IT sector has boomed and it still is with increasing digitisation and new technologies emerging everyday the number of career options has only increased in the IT sector. A few emerging options in this sector are below.
Software Programmer
Data Scientist/ Analyst
Web Designer/ Web Developer
Product Manager
Product Designer (UI/UX)
Quality Analyst
Cybersecurity
Media, News and Entertainment
Make use of mediums of communication to control the flow of information. A career in this field is filled with challenges and surprises everyday. With the addition of the internet the fields have exploded and have never been more accessible. Popular careers in these fields are:
Journalism
News Anchor
Graphic Designer
Photographer (Journalistic, wildlife, etc)
Animation
Visual Effects
Video Editor
Cinematography
Healthcare
A noble and respectable profession for those who enjoy helping other people or animals and want to work in a medical setting or environment. This sector is not limited to just Doctors though, with the advancements in science and technology this sector has also undergone progress and increased career opportunities.
Dietician/ Nutrition Scientist
Pharmacist
Veterinarian
Physiotherapist
Clinical Psychologist
Dentist
Doctor/ Surgeon/ Specialist
Marketing, Management and Sales
Careers in marketing attracts creative and highly driven individuals who are able to match market perceptions with plans of action. Management is a broad field dealing with as the name suggests management of everything. From people to operations, logistics as well as supply chains and factories or industries. Sales representatives are the backbone of the retail and services industry. A challenging career filled with ample opportunities for exponential growth. Skills from sales can be applied nearly in every field. After all, even writers gain recognition when their books gain the 'best selling' tag. Ever notice how there isn't a 'best written' tag for books? Most peculiar, right?
Sales Manager
Floor Manager/Store Manager
Public Relations Manager
Market Researcher
Human resource Manager
Marketing Manager
Digital Marketing (SEO and Social Media Manager)
Education and Training
Another noble, respectable and fulfilling career path is Education. If you love teaching and explaining concepts to others and endear knowledge to others, a career in education might be a right fit for you. Now, an extremely lucrative option, a career in education is not only shielded from automation but it is also constantly evolving with changes in the education sector. The old adage "those who can't do, teach" does not hold water any more. Teaching and teachers get a bad rap in many countries as pointed out here. Though the profession can be extremely satisfying.
Teachers/ Professors
Career Counselors
Counsellors
Coach
Instructors
Language Specialist/ Translators
Aviation and Aerospace
Space, the final frontier. A largely unexplored domain that required governmental backing to break into, is now being disrupted with several private players, enterprises and co-operatives. The Aviation sector has become a popular choice of career for women nowadays. With the adventurous appeal of flying to a new city everyday to the glitz and glamour that enshrouds the industry. A career in aviation is good for people comfortable with risk.
Airline Pilot
Flight Attendant
Ground Operation
Astronauts
System Maintenance
Design research
Finance and Accounts
With globalisation and free market trade the default worldwide, the global economy is ever expanding. A demanding and highly competitive field, finance sector requires responsible and diligent workforce. The growth in these sectors are purely vertical, however for that growth drive and a go-getter attitude is very much required.
Banking
Chartered Accountant
Financial Officer (Planner)
Investment Analyst
Stock Broker
Hedge Fund Manager
Insurance Claims Manager
Food Processing and Agriculture
Agriculture sector is ripe for disruption and improvement. With world population at 7.7 billion people, creating efficient and healthy food sources is constantly and immediately required. The Food Processing industry goes hand in hand with the agro industry. Food security for the future falls in the hands of these industries along with Natural Resources sector. The two sectors are vast, a few career options they contain are:
Food Scientist
Food Technologist
Agriculture Scientist
Agriculture Manager
Testing and Regulatory Agencies
Food Inspector
Natural Resources and Environment
Careers in natural resources are a mix of desk and on-field duties. It requires individuals to accurately evaluate and assess the natural resources available in a given area, state or country. So that these resources may be appropriately maintained, exploited or monitored for various uses. The environment sector is vast and wide. From energy and policy making to security, insurance and conservation. With increased participation from corporates as well as governments in the field the career options have exploded.
Environmental Scientist
Wildlife Biologist/ Conservationist
Geologist
Meteorologist
Geoscientist/ Geophysicist
Petrochemical Industry
Beauty and wellness
Beauty and wellness sector is booming in today's contemporary world. The industry is breaking out of its previous moulds and isn't constrained to a one size fits all solutions any longer. The potential for growth is high. If you enjoy grooming, working as a wellness and beauty expert and also have a keen sense of aesthetics then this may be the career field for you. A few career options in the fields are:
Image Consultant
Makeup Artist
Hair Stylist
Beautician
Spa Therapist
Wellness Officers